Academic Technology and Information Technology Services are collaborating to establish a campus-wide, shared technology governance body. This committee will aim to better align our technology resources with the strategic priorities of the University.
Have feedback for IT Governance at SF State?
Why Shared Technology Governance?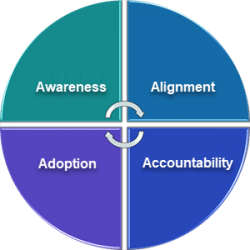 Awareness
Raise awareness of campus technology portfolio of services and solutions
Identify opportunities for collaboration and areas of duplication
Alignment
Link investments to strategic priorities
Prioritize within and across technology portfolios
Manage risk and return
Accountability
Provide feedback on technology services and solutions
Measure and evaluate outcomes of major projects
Foster alignment across campus technology providers in support of strategic goals
Encourage confidence in the process through transparency and consistency
Adoption
Sponsor projects
Enable change management strategies
Promote technology strategies
Shared Technology Governance powerpoint presentation for stakeholders (select the link to download).
Timeline
 Spring 2022
Broad Engagements
Present the governance framework
Answer Questions
Demonstrate Value
Summer 2022
First Committee Meeting
Assemble the committee
Committee defines schedule & commitment
Draft and finalize the charge
Fall 2022
Subcommittees Organize
Subcommittees form and organize around committee charge
Standardize processes and communications
Communicate processes to University community
Ongoing
Normalize Processes
Review existing project work
Begin accepting project requests
Evaluate process effectiveness and adjust